THE Colordripper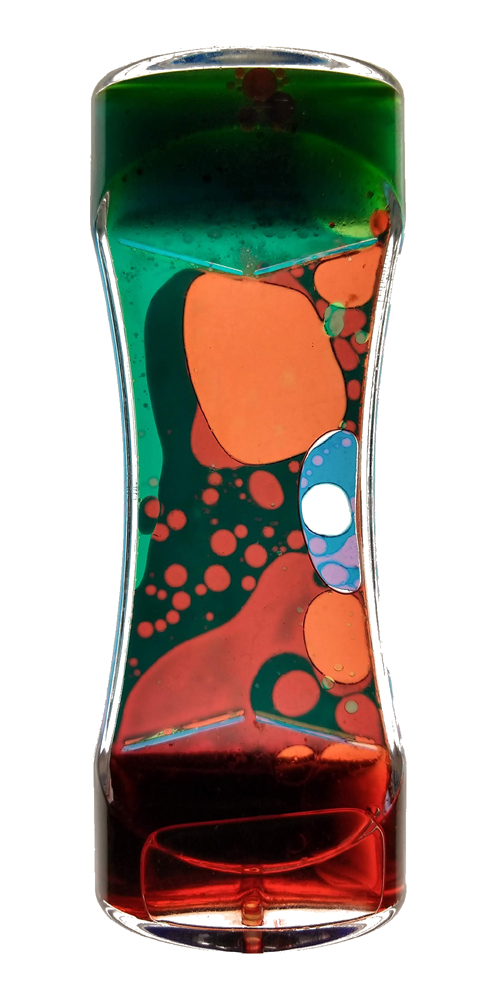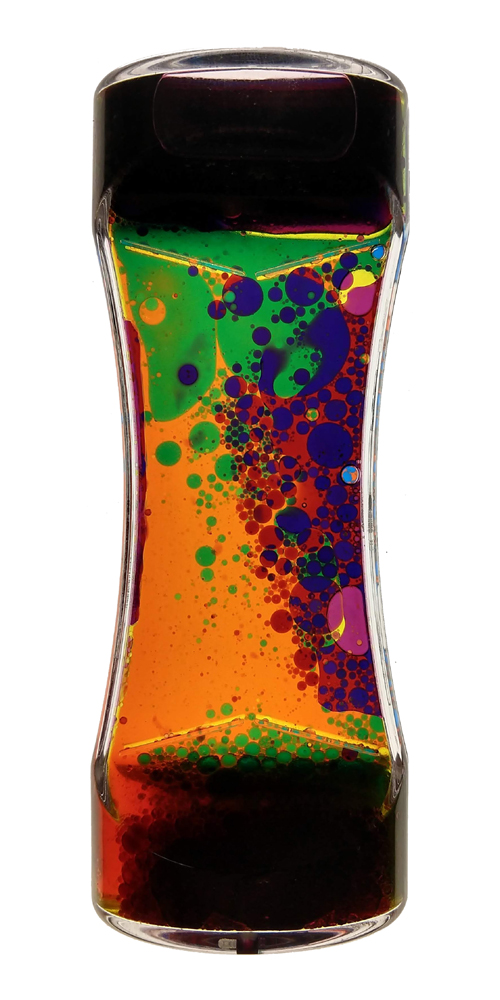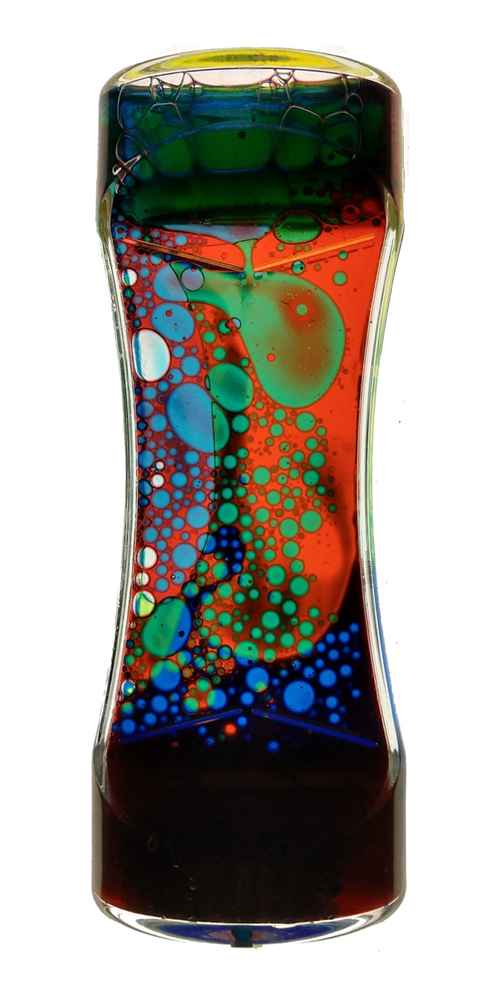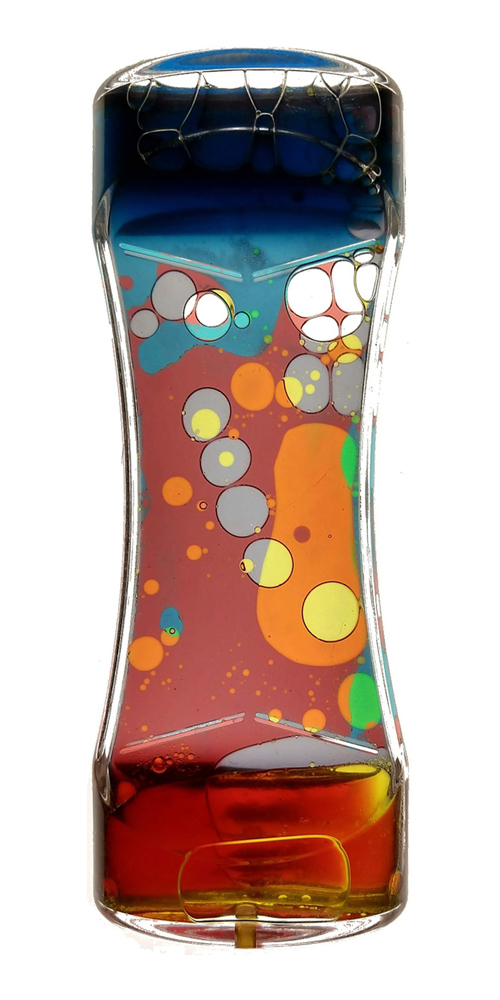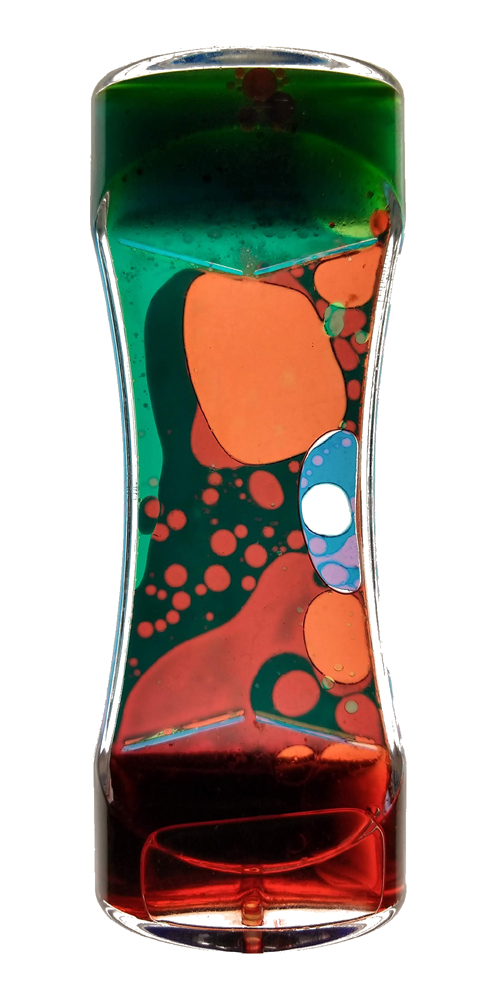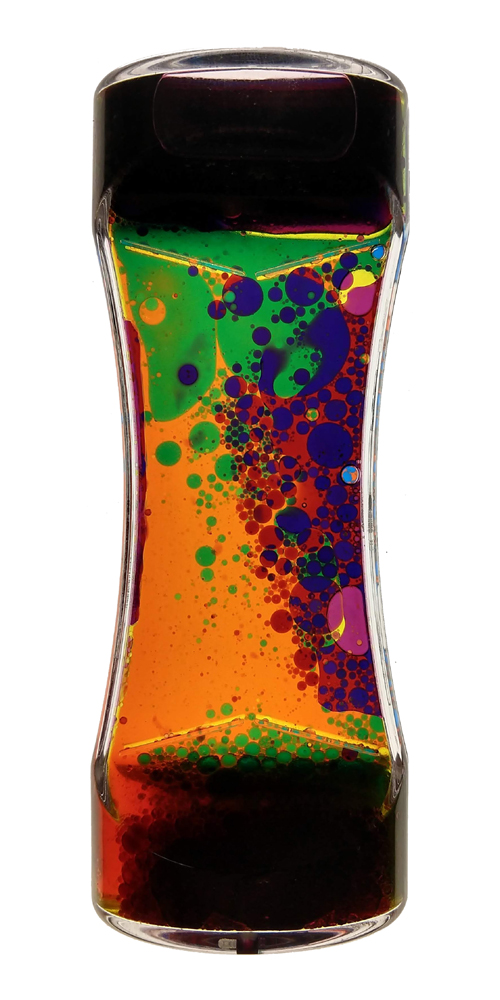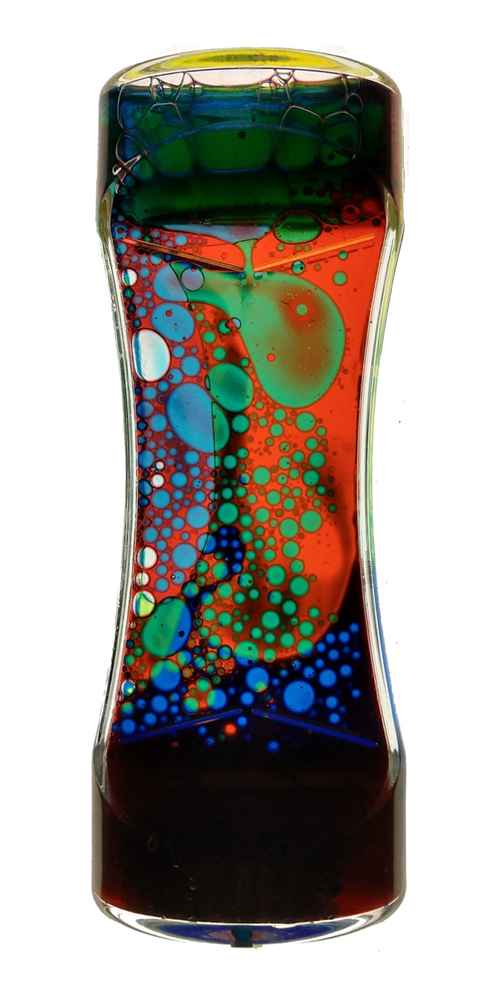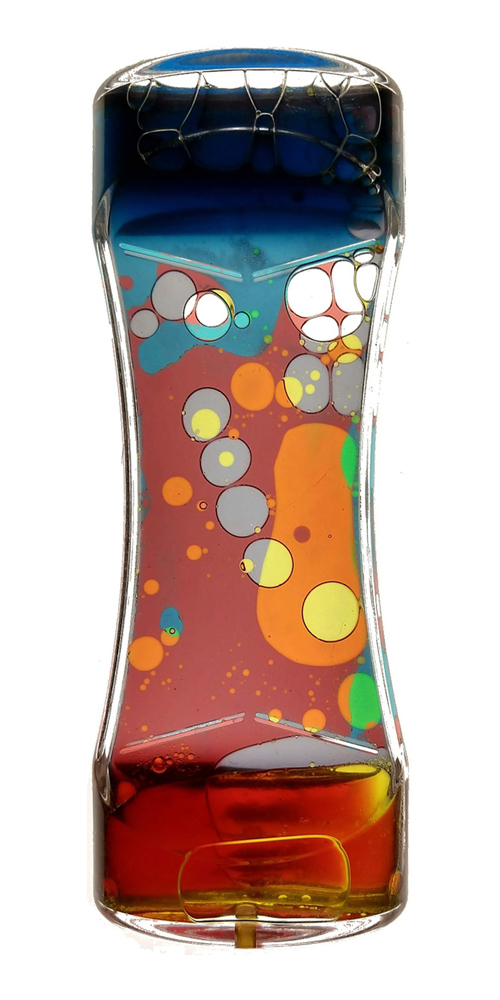 These are more colorful and engaging in person than pictured on a monitor. They can be made in pastel or vibrant color schemes, depending on your preferences (optional)
Similar liquid filled items you might be familiar with typically feature 1 or 2 colors in clear liquids, giving you a somewhat fast, predictable dripping motion. Conversely, our remixed version features 4 base colors intermixed with a variety of household fluids, creating a dynamic sea of melting hues that is constantly in motion. View a side-by-side comparison.
As you manipulate the dripper or simply flip it upside down, overlapping layers of moving colors paint a kaleidoscopical (sic) picture which is always changing.
Each colordripper is hand filled one at a time, therefore no two are identical. Some are lethargic when they first wake up but get animated after a bit. Others are remarkably energetic and will make turbulent waves at the slightest movement. If you have any color preferences (optional), you can indicate that when clicking the "add to cart" button.
THERE IS NO WRONG WAY TO ENJOY COLORDRIPPERS
It is a blast to turn the drippers over and watch the oils slowly reorganize as gravity takes its toll.
Or, you can enjoy a more active playstyle, and shake things up or jostle the liquids.
As you move it within your hands the colors will slosh around and dance with each other, but will never mix.
It does not matter how much you agitate or shake it though, as it will always revert back to its original self because the laws of chemistry say so. Something like that.
weight 4 oz

5.75" x 2 "x 1"
NOTE: images are compressed for the web. Colors are vibrant & textures are rich in person
ONE-OF-A-KIND LIQUID FILLED PAINTINGS
Since these are individually filled one at a time, no two color schemes are exactly the same. Virtually every combination you can think of is possible. In addition to using a broad range of colors, the chemistry of them varies widely, so different ones drip at different speeds. Some are loaded with bubbles, while others feature solid liquids.
ZONE OUT AT A MOMENTS NOTICE
Are you tired of winning staring contests with strangers on public transport? Perhaps you are looking for a quiet distraction to keep little ones occupied in the car or on a long flight? Our eyecandy may be an inexpensive remedy for temporary escape. Fill a few minutes of empty time without immersing yourself into a screen with this compact fluid filled gizmo.
This hypnotic sensory tool can also help you keep your head screwed on during moments of BS when your boss or colleague decides to be a world class you-know-what. Dissolve into oils for a few minutes and you'll likely feel more relaxed and less anxious.
NOTE: The operating temperature range is 33° F — 120° F. Do not subject your colordripper(s) to freezing temperatures for any extended length of time, or leave them unattended in direct sunlight.
COLOR PREFERENCES (OPTIONAL)
You are welcome you to indicate some of your favorite colors when ordering 3 or fewer drippers. We'll use that as the basis for picking out a dripper(s) for you. These are not made to go, rather this is an input to pick out one that most closely matches your request.
When you add an item(s) to your cart, you'll be presented with a fancy pop up window where you can send any such requests or make special instructions. This is optional, if you can't make up your mind we'll send one that is vibrant and has 3 or 4 colors.
These are not in many stores, but if there is a shop near you that carries them we implore you to testdrip one in person.
GENERAL ORDERING INFO
All drippers are sealed in plastic to keep the scratch-resistant surface clean, and are carefully packaged for a safe journey to you. We ship out orders 4-6 days per week unless noted. The cost of standard 3-5 day delivery is included in the price for U.S. customers if you order three or more, while orders of one or two is a flat rate of $2.75. A priority upgrade is available for a nominal fee. At this time we are unable to ship internationally as the cost of shipping is cost prohibitive.
View this FAQ page for more info.
Let your imagination percolate with artsy fartsy contrivances